If there's a talk on the advancement related to latest trends and technologies then it's obvious that 'Blockchain Technology' is immensely popular but as said every outcome is associated with a set of advantages and disadvantages which is certainly the most important aspect of technical platforms.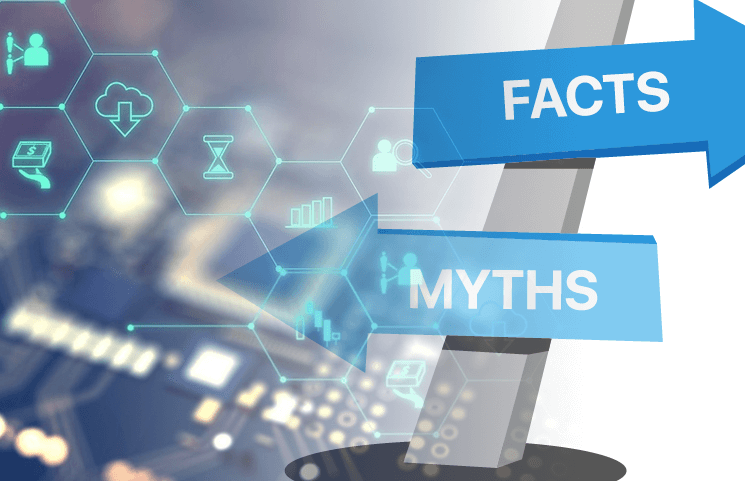 In this blog, you'll get to know about 5 most common myths and facts related to the blockchain technology along with the reliable explanation.
1. Blockchain is a 'Hyped' Technology
It's not a hyped technology but a useful technology which can be used in a very efficient manner for tracking records of food, weapons, medicines, bank statements etc.
2. An 'Unchangeable' technology
Well, sometimes it's possible to break down this technology via 51% attack which is highly threatening for the data which is stored over the database of the digital platform.
3. Blockchain is correlated with Bitcoin
It's not the case anymore that blockchain is used only for the purpose of exchanging digital currency. This technology is also used at a high extent for maintaining the transactional records, patient records etc in a variety of Banks and health sectors.
4. Huge Amount of Profit
It's the most common myth associated with it due to 'Bitcoin' as Blockchain Technology is used at a high extent for the purpose of exchanging digital currency. Moreover, now it's flourished to a wide range of sectors for the purpose of maintaining records and transactional statements in the 'shared ledger'.
5. Blockchain is a single string
It's never a single blockchain and there's different blockchain for each purpose and it's completely different from each other. It can be used both in private and public format by the individuals.
Wrapping Up!
There are many other myths which are associated with this technology but all of us need to understand this fact that it's very beneficial for a wide range of business organizations.